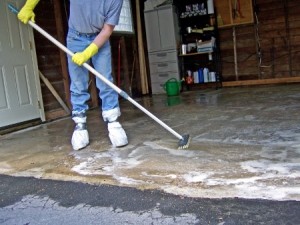 With the change of seasons comes spring cleaning time. One of the areas that sees some of the worst wear from winter is your garage floor. After a long, cold and snowy Minnesotan winter, your garage floor is probably coated with dirt and grime from melted snow, not to mention road salt and vehicle oil and grease that might have leaked out. Here are a few tips to restore your garage floor back to its original shape.
To start, you should remove all movable fixtures, like cabinets, stands and shelves, so that you have full and open access to the entire garage floor. This will allow you to get into corners and areas normally hidden so that you can sweep out dust and dirt that may have accumulated in these obscured areas. You can also hang drop cloths along the walls of the garage if you have low electrical outlets or finished walls that may be affected by moisture.
After you finish your initial cleaning and preparation, mix a cleaning solution to scrub clean the floors. Specialized concrete degreaser solutions work great, but laundry detergent can also work in a pinch. Mix a proportion of your cleaning agent in with a bucket of hot water and start scrubbing the floor using a bristled push broom or deck brush. Begin in the back of the garage and work your way to the doors, lifting and clearing dirt away from the walls and back outside. You can also let the cleaning solution sit for a few minutes after brushing to help lift stubborn stains and dirt. Once scrubbing is complete, grab the hose and spray down the floor, again starting from the most interior areas and spraying outward.
Once the floor dries, you may see more resilient stains that have lingered. For stubborn grease and salt stains, wet the area of the stain and apply a concentrated amount of your degreasing solution that you used in the scrubbing mix. By wetting the area first, you prevent the oil from emerging and spreading out, while the concentrated degreaser will work to pull the stain out of the floor.
Templin Concrete Construction specializes in custom concrete solutions, including driveways and garage floors, as well as repairing and restoring worn out installations. For more information, give us a call today to schedule a consultation and free estimate.