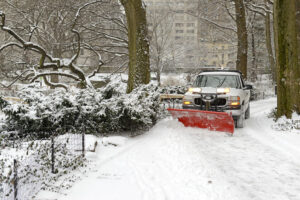 It's that time of the year again. Well, it's not quite the winter season yet, but we're quickly approaching the cold, snowfall, and frigid temperatures here in Minnesota. One of the biggest regrets that homeowners have is not planning out their snowplowing services before the snow starts to fall. If you do your snow removal and plowing services yourself, then you already have everything planned out.
For those homeowners who either cannot manage their own snowplowing, then Templin Concrete Construction is here to solve your snow problems this winter.
Snowplowing Services for Your Benefit
Not everyone living in a place with cold and snowy winters can manage their snow removal from their driveway, so it's important to have a backup plan that will help you out when the snow becomes too much on your driveway and sidewalks. At Templin Concrete Construction, we not only work with installing concrete surfaces in and around your home, but we can also maintain them year-round. Having a snow removal or snowplowing service in the winter season will give you relief knowing you won't have to worry about getting stuck in your driveway or slipping on your sidewalks when it's icy.
The Benefits of a Snowplowing Service:
Prevent getting stuck in your driveway
Cleared driveway after heavy snowfall
Eliminate heavy lifting and removal of snow for yourself
Driveway Safety
Keep your surfaces maintained in the winter
Why Choose a Snowplow Service Over DIY?
Nobody enjoys snow blowing or snow shoveling their driveway or sidewalk. It can be tiresome, especially when it's very cold out here in the state of Minnesota. Frigid temperatures can be very dangerous for people who clear their driveways. Staying outside in the below zero temperatures can be dangerous and unhealthy.
Snowplow and snow removal services can give you the relief you need in the winter and eliminate those possible hazards to you and your family.
Contact Templin Concrete Construction at 612-388-1945 today or visit us online for more information about snowplowing and snow removal services we offer.