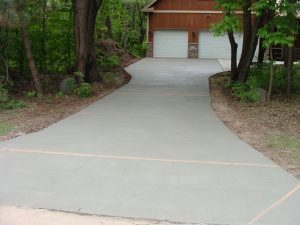 If you're looking to upgrade your driveway, concrete might be the best move for you. There are plenty of benefits when it comes to concrete, and we want you to know about them.
Here they are:
Lasts Longer – a concrete driveway tends to have a longer life than other driveway materials if maintained properly.
Design Options – with more design options when it comes to concrete like stamped concrete, you can create a beautiful driveway for yourself.
It's cooler in the summer – they absorb less UV radiation than other materials making the concrete cooler in the summer when walking on it.
Maintenance – there is less maintenance when it comes to concrete, but it needs to be done, you definitely want to attack the issue right away.
Can handle heavy vehicles – concrete is able to handle heavier vehicles and equipment than the other driveway materials because of the rigid and non-flexible material.
Environment – it produces less energy to produce and place concrete making it more environmentally friendly.
Resale – if you're looking to sell your house in the future, you'll most likely have an easier time getting a buyer due to the concrete driveway.
When getting creative with designing your concrete driveway, you have more options with landscaping and other concrete projects. For example, you could have a beautiful design for the driveway and match it with a sidewalk, patio, or walkway in your yard and around the house. This will definitely increase the home value and make your house standout in the neighborhood.
Templin Concrete Construction
Templin Concrete Construction is a concrete contractor and a family-owned business located in east central Minnesota. We have over 10 years of experience doing concrete work on new homes and older homes. 
Contact Templin Concrete Construction at 612-388-1945 today to get your driveway concrete project done with us!