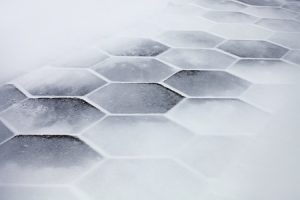 Are you tired of trying to keep your concrete driveway free of snow and ice in the wintertime? As we've discussed before in the blog, using rock salt is not recommended, but there are a number of nontraditional ways to keep it clear.
Here in the state of Minnesota, we have benefited greatly from the nearby sugar beet industry and have found that using sugar beet juice is an excellent way to melt snow and ice quickly and keep roadways, driveways and other paved surfaces clear.
We already know what you're thinking: "Beet juice?" It may sound kind of crazy, but studies conducted by the Morton Arboretum and others have shown that beet juice is effective when it comes to deicing surfaces, says DeepRoot. That's because beet juice decreases the freezing point of water, and when mixed with rock salt can be effective to temperatures of -20 degrees Fahrenheit. That's pretty amazing when you consider that rock salt only decreases the freezing point of water to about 5 degrees Fahrenheit.
Studies have also shown that spreading beet juice across a surface is much more effective than spreading rock salt across a surface, since rock salt tends to bounce right off certain surfaces. It's why, as USA Today notes, many cities and towns across the country have started to turn to beet juice to handle their snow and ice problems in the winter. It helps extend the life of salt reserves and offers greater efficacy than rock salt alone.
There are many other alternatives to rock salt that people have used over the years, too. From coffee grinds and sand that can absorb sunlight to increase snow melt while providing traction to vinegar spray that melts snow and ice naturally, to alfalfa meal and kitty litter that help keep your footing on slick surfaces, there are many ways to treat your concrete driveway when it starts to get snowy outside.
Templin Concrete Construction specializes in helping business and homeowners with their concrete paving and interior countertop needs. During the winter, we can also help with our snow plowing services to keep your driveway free of the white stuff during the colder months. To learn more about our full range of services, give us a call today at 612-388-1945.