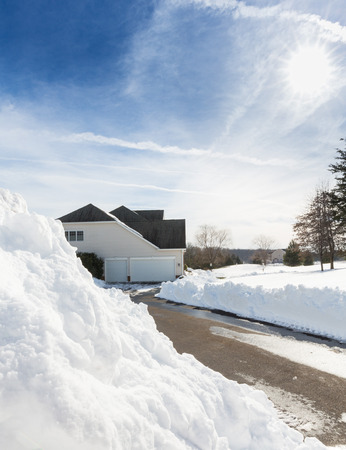 With Winter now in full swing, it's still not too late to get someone to clear your driveway of snow for the season. This winter, instead of having to shovel or snow blow your way out of your driveway each morning, let Templin Concrete's snow plowing service help.
Having someone clean out your driveway every time the snow falls can make life a whole lot easier. For instance, if it were to snow overnight, you wouldn't have to wake up early to get outside and clean your driveway just to make it to work on time. You could go ahead and hit snooze, knowing that Templin Concrete has you covered.
Another benefit of having our professional team snow plow your driveway is that you could save yourself from potential injury. Now, after all, shoveling or snow blowing isn't that strenuous, but after a while, it can get very taxing. This could lead to pulled muscles or a strained back. With a snow plowing service, you won't have to stress and strain yourself at all – our snow plow driver will do the work for you!
Now some people may be wary of using a snow plow service because they are afraid that the plow driver may cause damage to their driveway. That's why Templin Concrete is the perfect choice for plowing your driveway. As concrete paving professionals, we know what it takes to maintain your driveway quality while also keeping it free of snow throughout winter. With our plow driver working for you, you can trust that we'll work to keep your driveway looking as great once the snow melts as it did before the first flakes landed.
If you're looking for help keeping your driveway clear of snow this winter, Templin Concrete can help. To learn more or to request a quote for snow plowing at your home this season, give our team a call today at 612-388-1945!