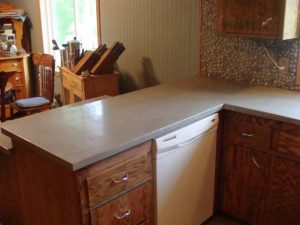 Homeowners are always using their countertops for preparing meals, baking, chopping vegetables and entertaining. Aside from your appliances, they seem to get the most use out of everything else in a kitchen. It's important to ensure the countertops you choose to install or replace are long lasting and designed to withstand many future dinner party preparations, holiday cookie baking and so much more.
If you want to replace your old countertops that are stained, scratched and look like they've suffered the elements for long enough, choose concrete! Most people often associate concrete with driveways, sidewalks and garages, but concrete has come a long way over the years and is taking the home remodeling industry over by storm.
Why Concrete Counters?
The better question is, why not? Concrete countertops are one of the newest trends in the realm of home design. They're especially popular among homeowners who lead a greener and more sustainable lifestyle as they are extremely eco-friendly.
Additional Benefits of Concrete
Low Maintenance: Concrete counters are incredibly easy to clean using pH-neutral cleaners for both sealed and non-sealed concrete countertops.
Energy Efficient: Concrete countertops are safe for families – especially those with young children – because they are heat resistant and energy efficient. The concrete captures heat from rising temperatures, and releases it when the temperature drops at night, helping to keep your home temperatures more moderate all throughout the day.
Color Options: You have all kinds of colors to choose from with concrete! Don't worry, you don't have to settle for the boring, dull grey color of your driveway outside. Just a bit of coloring powder can create a unique color for your new, long-lasting concrete counter.
Stain Resistant: When concrete countertops are sealed, they are stain resistant. You won't have to worry about coffee, wine or other food or beverage stains ruining your beautiful counters.
Can Be Personalized: Do you want an entirely customized look for your countertops? Add bold and attractive designs and patterns with embedded shells, tile inserts, iron materials, blue agate pieces and much more!
Make into Any Shape: The best part about concrete countertops is that they can be made into any shape or design you envision. No matter how uniquely designed your kitchen may be, concrete can be cut into any shape. Whether you have a straight counter, an L-shape or even an S-shape unique counter, concrete can be custom-poured to meet your needs.
If all of this wasn't convincing enough, check out our gallery to see some of the unique countertops that Templin Concrete Construction has made in the past. To learn more or to discuss installing a concrete countertop at your home, call us today at 612-388-1945.