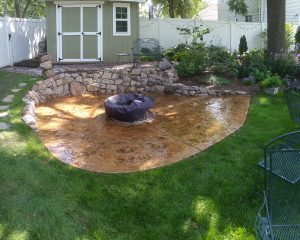 There are plenty of concrete projects that can spruce up your backyard for the end of the summer. Especially with decorative concrete, there are many sidewalk and patio options that have come a long way with numerous stamp patterns to choose from.
Concrete Patios – A concrete patio can be a great addition to your backyard.  If you're hoping to entertain guests with a cookout or just a summer night out back, concrete patios work extremely well. From a professional, they are quick and easy to install with several different pattern and color options. The maintenance keep-up would go as far as sweeping up or rinsing off with a hose.  Every couple of years, it is recommended to apply a sealant.  There may be some other minor issues, but as long as you keep an eye on it, it can be very long-lasting.
Concrete Sidewalks and walkways – sidewalks and walkways also are very nice to have in your backyard. They sometimes can break up certain parts whether you have a flower garden or a vegetable garden. You may want a connection from the patio to the garden or pool area. A concrete stamped sidewalk will add an aesthetic feel to your yard.
Decorative Concrete for Patios and Sidewalks
Templin Concrete Construction is a concrete contractor and a family-owned business located in east central Minnesota. We have over 10 years of experience doing concrete work on new homes and older homes.  No matter what the size of the project is, we can help you get you what you want. Concrete patios and walkways with us include many different patterns and colors with antiquing colors that add a realistic touch. We put the first coat of sealer on for you, which will protect and give the concrete a "wet look."
Contact Templin Concrete Construction at 612-388-1945 today to get your backyard concrete project done with us!